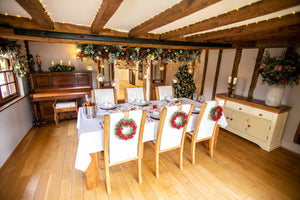 This client was looking for a traditional look, with unusual, luxury pieces. They wanted the beams to be decorated with fairy lights, every room downstairs in their home decorated, as well as the outside.

We created a focal point over the dining room table with hanging glass baubles and tea lights. We also designed a corner piece, which stood out and we placed a number of arrangements in the rooms. They requested both real and artificial trees to be decorated, which we handpicked and dressed with glass baubles and foliage.
Let's transform your space
Book a consultation with us and we will view your space and discuss your requirements - just leave the rest to us.  We will come up with inspired ideas and design the perfect setting to suit your needs. We work to ensure that disruption is kept to a minimum.