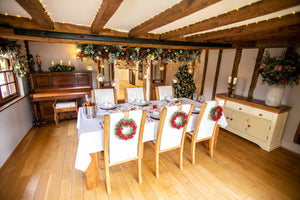 Our outstanding attention to detail means we produce individual, custom-made pieces which tick all the box's - lavish, festive, luxurious and stylish.  We take care of everything - doorways, staircases, trees and foliage, corner pieces, dining tables, arches and fireplaces.  
Christmas
Enjoy a stress-free Christmas this year by letting us take care of all your home decorating needs. We offer a bespoke service which can be as humble or grand as you wish. Whether you desire traditional, contemporary or quirky, we can help.

From special touches such as hand-made wreaths or garlands, to large scale epic productions, Whitefields Decor will make it a Christmas to remember. Our decorations and products are hand crafted to bring to life your dream Christmas. Whether it's a fragrant garland, a spectacular tree or a stunning light fitting, you can be confident that all of our products are made from the highest quality materials.

Our intention is to create the ultimate bespoke Winter Wonderland.
Decorate Your Workspace
Impress clients at your function, event, or as they approach your business with fabulous, stylish decorations. Whitefields Decor endeavour to create the perfect scene for businesses - with extra wow-factor. We apply beautiful design skills and attention to detail for an end-product that really stands out.
Special Celebrations
You could be celebrating a Wedding, Halloween, Birthday party, Easter, or any of the Holiday Celebrations we have throughout the year. Whitefields Decor are experienced in creating decorations to bring the party to life.

If your looking for a floral arch, Count Dracula, table centrepiece, large ornaments such as the Easter Bunny, We love being creative and working with our clients to create pieces that are unusual and stand out from the rest.
What our Clients are Saying
★★★★★

We are soooo chuffed with the decorations. The pink tree is soooo stunning! I am so pleased with it all, thank you so much! Merry Christmas.

Louise

Family Residential Home, Essex
★★★★★

I am really chuffed and will be raving about you to all my friends who use Christmas companies to decorate their houses. I love it all.

Thank you!

Leanne

Apartment, Sugar Quay, London / Office Building, City of London / Country Family Home, Essex
★★★★★

Thank you for everything, we had loads of positive compliments on the decorations! The treees and decorations brought joy amidst the gloom.

Sally & Adrian

Family Home, Muswell Hill, London
★★★★★

Thank you so much, our house looks stunning! We have had so many compliments. You just came in and gave us exactly what we were imagining! We love it all.Thank you and Merry Christmas.

Charlotte & David

Family home, Maiden Vale, London.
★★★★★

I loved it all... the way the trees were decorated, the garlands around the windows and fireplaces, the vases, the table arrangements, but my favourite was the stairs! Thank you so much, I can't wait for next years!

Rebecca

Family home, Essex
★★★★★

We love the decorations. We couldn't ask for our home to look any more festive! Thank you so much.

Francesca & William

Family home, Cobham, Surrey.
Consultations
Book a consultation with us and we will view your space and discuss your requirements - just leave the rest to us. We will come up with inspired ideas and design the perfect setting to suit your needs. We work to ensure that disruption is kept to a minimum.
Frequently Asked Questions
After speaking with yourself initially, we will arrange a suitable time to come and view your home or workspace. If you could allow approximately an hour for this, as we will measure up, discuss ideas and go through colour schemes. We will then have a meeting with our team to discuss further ideas and send you a quotation.

Once this is agreed we will schedule an installation and take down date with yourself. We will then start the design process and start creating your bespoke decorations. We will go through all of our unique stems and decor, wire them up individually and start creating your arrangements. This will include adding lights and any other specifics you have requested. All the baubles we add to the decorations will be made of glass (unless outside) as we feel this really makes the decorations look luxurious.

On the installation date we will come to install your decorations with our experienced team members. Trees will be decorated, wreaths and garlands hung, vases and table decorations placed. As the majority of our work comes from recommendation, we will endeavour to make sure your home or workplace looks festive and inviting.

On the specified date to take the decorations down we will arrive again with our team to make the process as quick as possible. All your decorations will be wrapped up and taken away to be stored in airtight containers.

The following year we will go through your decorations and check they are in top condition, changing anything that looks worn or in need of replacing.
Yes, we will decorate your home or workspace with the same decorations for 3 consecutive years. After the three years we can make new decorations for you (we can change the colour scheme also if you wish).
Yes, at the end of the Christmas holidays we will come back with our team of professionals, on an agreed date and take all your decorations down. They will all be wrapped up to keep them in pristine condition and we will take them away and store them in airtight containers.

Each year we will get your decorations out of storage and check that they look like new. We will replace any breakages and replace any foliage that we feel is looking a bit tired. We will make your decorations look like new again, as this is how we get most of our business through recommendations.
Yes, we will wrap and store all your decorations in airtight containers, so you don't have to worry about finding space to put them.
We can make you fresh garlands, wreaths and vases each year, as well as sourcing and decorating fresh trees for you.
Yes, We can install outside garlands to doorways/porches, wreaths to doors and gates. We also make arches to go outside your front door and can source any lanterns or figurines for you. We can also install fairy lights around your house. Anything goes!
We can make garlands, wreaths, arches, table decorations, and vases. The list is endless. Once we view your home or workspace we will discuss ideas with you and go away and get our thinking caps on! We love making unusual decorations that we feel will suit the area.

Having decorations made bespoke, installed, taken down and stored is a very involved process. The cost will depend on how many decorations you would like made and how large the area is to be decorated. Some clients have one tree, whereas others have one in each room. The time scale to make up your decorations can take anything from one week to a month, depending on how intricate the decorations are and if we have to source specific items.
The majority of clients will spend over £2000 on decorations, on a yearly basis.
Yes of course you can, we will advise, but ultimately it is your choice, it is your place that we are decorating and you can choose whatever colour you like, some clients even have fluorescent pink! We can change the colour scheme in each room if you wish.
Of course you can, it's your choice what you would like in your home. If you are looking at getting a fresh tree we will make sure it is the right height and 'bushiness' for the area. We use a local tree farm who we have used for a number of years, so know the trees are of exceptional quality.